As well as the Bodybuilding Certification Course, the IAPC also has the 2300 page Nutritional Food Composition Table Suite CD for Windows (AUD$297 Value).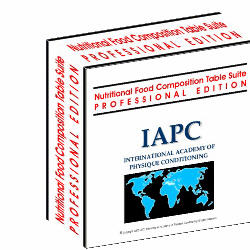 Here's how the IAPC can help you build your reputation further, impress your clients more, and achieve results that presently seem only a dream…
The IAPC Nutritional Food Composition Table Suite is a must have reference for every personal trainer serious about their business and reputation…
With it you can quickly, easily and accurately design simple diets right up to the most advanced specialty eating plans in existence…the type that can give you and your clients a winning edge.
You can quickly find high protein foods, low carbohydrate foods, low fat foods, low calorie foods…foods high in potassium or zinc or sodium. Foods low in cholesterol…in fact whatever it is you need to know…you'll find the answer here. Over 2000 pages…all with an accurate quick fast search function. 83 comprehensive tables in all…with a database of 6040 foods will enable you to select nutrient compositions for all of them. Not only can you use search function…you can browse the tables which are both alphabetically listed and sorted from highest to lowest.
Use these tables to manipulate fluid balance, reduce bodyfat or increase protein intake for muscle growth.
Eg. Using the alphabetical listing you can easily browse foods by categories. eg find the best fish or beef or bread for a certain nutrient, such as calories or protein or carbohydrate. Using the highest to lowest tables you can browse for the best foods high in something (eg high in potassium) or low in something (eg low in sodium)
Here's an alphabetical list of the nutrients covered in The IAPC Nutritional Food Composition Table Suite which comprises of 83 complete stand alone PDF tables for thousands of foods…
alpha carotene
fibre

riboflavin

beta carotene

folate

selenium

beta Cryptoxanthin

iron

sodium

calcium
lutein

thiamin

calorie

lycopene
tota

l sugars

carbohydrate

magne

sium

vitamin a iu

cholesterol
manganese
vitamin a rae
choline
niacin

vitamin b6

copper

Oxalic Acid in Selected Vegetables
vitamin b12

fat

pantothenic acid(B5)
vitamin c

fatty acids monounsaturated

phosphorus
vitamin e

fatty acids polyunsaturated

potassium

vitamin k

fatty acids saturated

protein

water


zinc

Each nutrient in the chart above can be tracked/found in the food table suite both listed alphabetically or highest to lowest content. This gives you two powerful tools/ways to design diets


At your fingertips you now have instant access to the latest nutritional composition tables in the world. Nothing else compares. This means no more guesswork and reliance on outdated information...giving you an edge on your competition

The composition tables of 6,040 foods puts the power of the worlds most advanced reference library in your hands. Nothing is as comprehensive. But even more importantly…nothing is easier to use…inbuilt search function allows you to find exactly what you need…fast…no more wading through piles of irrelevant junk…pinpoint what you need and go straight to it!

Clients want to pay for the best trainer. Keep your clients up to date with your new IAPC 83 volume resource library at your disposal. This would have to be one of the best investments any personal trainer could make in their business…

Imagine the benefits and control you have putting any diet together - working off such an extensive resource giving you the protein, fat and carbohydrate content (and more) of 6040 foods!

In seconds find the precise details of dozens of compounds that exist in the food we eat today...quickly answer you clients questions…and give them a printout to take home and keep for themselves

The research used to prepare these tables cost the U.S. Government $12,000 per food item, totalling $72 Million! But you've now got the chance to utilise this invaluable information to make your business and results fly.

You can't buy this information at a book store...and if you could, 83 tables complete with search engine would cost an arm and a leg.
There's no comparison to the IAPC Nutritional Suite available on the market today, nothing as comprehensive...so don't waste time procrastinating and "thinking about it"…get into action now and start serving up better results for yourself and your clients immediately. Why not land one of your biggest wins ever for yourself, your business and your clients by buying the Food Suite now...
So whether it's 2 in the morning or 10 at night…don't waste another minute waiting for tomorrow…DO IT NOW!
The IAPC Nutritional Food Composition Table Suite Pro edition CD for Windows is valued at USD$297.


Click here to BUY NOW
only AUD $297